Note: This is a BETA and TEST version for the Volvo P2 250kbit/s OEM CAN protocol, please report back to us using the contact form with your experiences.
Inputs (working)
•AC request/idle up.
•Rear and front wheel speed into MaxxECU traction system (from ABS CAN*).
•ABS torque request.
•STC/DSTC (S60R) button.
•Cruise control buttons.
•All input button can be custom defined by using the OEM CAN Buttons.
•Active chassis setting (not in OEM Protocol, see below example, found on S60R.
Outputs (working)
•Tachometer (RPM).
•Speedometer.
•CLT, torque and some other stuff to keep OEM units happy.
•Oil pressure warning light (will always light up below 100 when there is a Engine Oil Pressure configured on a channel).
Not working/issues/work in progress/not implemented
•OBDII ECM Diagnostics.
•Low oil level indication.
•Fuel consumption meter.
Restrictions
•*No individual wheel speeds.
•*Front wheel speeds are calculated, so if your front left wheel are spinning, it will be visible on both front wheel speeds.
•*Rear wheel speed are from ABS CAN.
Confirmed to work models
•Volvo S60, 2003.
•Volvo S60R, 2004.
Changelog
•Fine-tuned the cruise control behavior.
•Added to the Tachometer output value presentation function.
•Added as a BETA version in
Chassis setting button on S60R

The active chassis settings is available on the Volvo S60R only. You need to use a CAN Input to capture its status.

1. Enable an available CAN input (1-10 which has bitmask functions), message ID: 0x180002E.

2. In this case, we will do a byteoffset of 7 bytes and do a 0x03 bitmask.

3. Use resolution 1.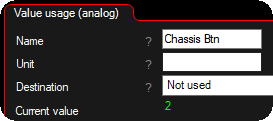 4. Give the input a good name. In this example you get the value 2, which is the SPORT mode.
0 = No mode selected.
1 = COMFORT.
2 = SPORT.
3 = ADVANCED.
This user CAN input value can now be used anywhere inside MaxxECU to do some changes in your tuning, like using the Internal output system to trigger certain digital input functions.
Help and contribution
Christoph Jonen, ECUPlus, Germany.