Used to control internal counters. Can be used directly on inputs, or used in combination with internal outputs.
Example usage

1. Activate "Counter X up" on ex Digital input 1.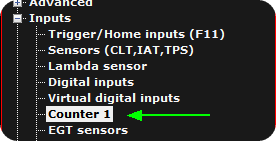 New setting "Counter X" appears in configuration tree.

2. Example of Counter, trigger this counter will change value from 0 --> 1 and 1 --> 0. Can for example used as a "toogle switch". Counter values can also be saved after ECU power down, enable "save when not powered".