Inputs (working)
•Clutch depressed
•Traction button
•AC request
•All four wheel speeds from ABS
Outputs (working)
•Tachometer (RPM)
•Check engine light
•Turbo boost (0-1.8bar boost)
•Oil pressure gauge
•Oil temperature
•Low oil level light <-- hardcoded to DIN4 input (used by the plugin).
•Engine temperatures
•Immobilizer light
•Traction light
•Speedometer
•Odometer
Not working/issues
•ODBII diagnostics not available with MaxxECU connected, use stock ECU
•Fuel consumption
Changelog
MTune 1.110: Smoother speedometer output in dash.
MTune 1.108: Initial support for this CAN protocol.
Confirmed to work models
•2011 Ford Focus RS, Bosch 0261 209 484 PCM.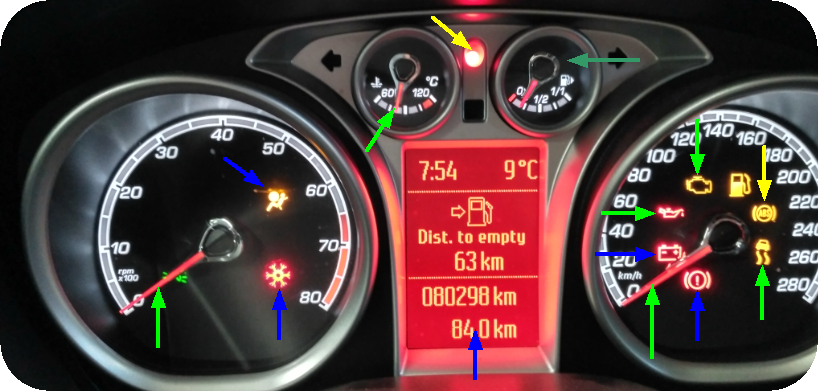 Ford Focus RS instrument cluster

Ford Focus dashboard.
Arrow explanation
Green (light): Working.
Green (dark): Working (but not controlled by CAN).
Blue: Not ECU controlled.
Orange: Partly controlled by MaxxECU.
Yellow: Turned off.
Notes
•The "oil pressure" signal in dashboard to the right is a "simulated" oil pressure signal (from RPM and oil temperature).
•Check engine light is connected to MaxxECU error diagnostics.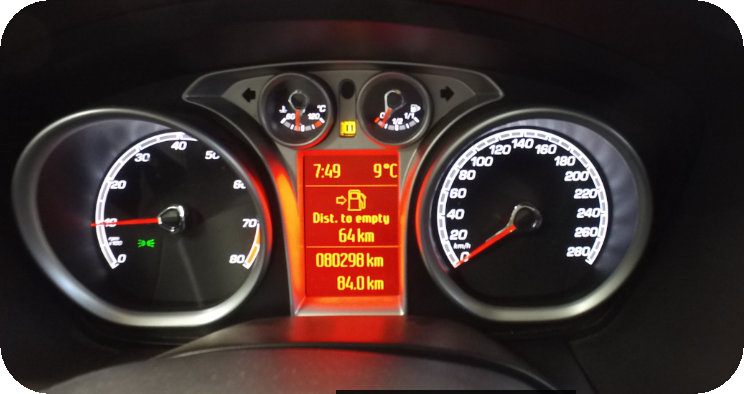 Example of the instrument cluster during idle.